"Talk to me Goose." - Maverick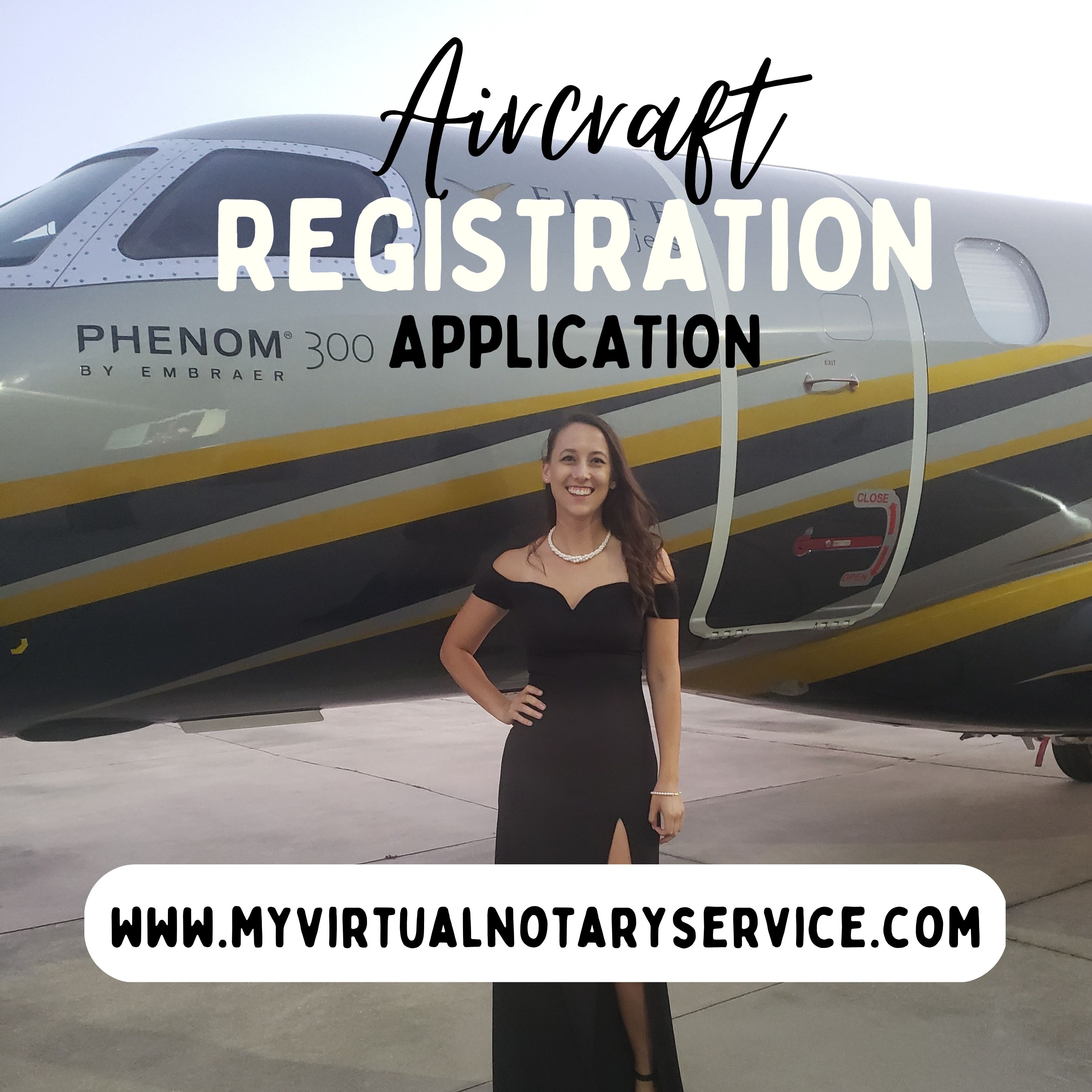 Skip the hassle of in-person notarization and sign your aircraft purchase documents remotely with virtual notarization. Save time, money, and enjoy a seamless buying experience.
Jet purchases typically involve a significant amount of money and complex legal agreements, so there are several important documents that may need to be notarized. Here are some examples:
Purchase Agreement: This is the contract between the buyer and seller outlining the terms of the sale, including the purchase price, payment terms, delivery details, and any warranties or representations.

Bill of Sale: This is a legal document that transfers ownership of the jet from the seller to the buyer. It typically includes details such as the make, model, and serial number of the aircraft, the purchase price, and the date of sale.

Aircraft Registration Application: This is the form that must be submitted to the relevant aviation authority to register the aircraft in the buyer's name. Depending on the jurisdiction, this may need to be notarized.

Financing Documents: If the buyer is financing the purchase, there may be loan agreements, security agreements, and other documents that need to be notarized.
It's important to note that the specific documents that need to be notarized can vary depending on the jurisdiction and the specifics of the transaction. It's always a good idea to consult with an attorney or other qualified professional to ensure that all necessary documents are properly executed.
According to a 2021 report by the General Aviation Manufacturers Association (GAMA), there were approximately 211,000 active general aviation aircraft in the world as of the end of 2020. Of these, the majority were single-engine piston aircraft (about 175,000), followed by multi-engine piston aircraft (about 6,000), turboprops (about 19,000), and business jets (about 10,000). While it's difficult to determine exact numbers of private aircraft ownership, these figures give an idea of the scale of general aviation and private aircraft ownership worldwide.
Let me make the notarization process seamless with virtual notarization. Book a session today or contact me to set an appointment. Have a question? Let me know.
Katie Tremulis
Notary Public
---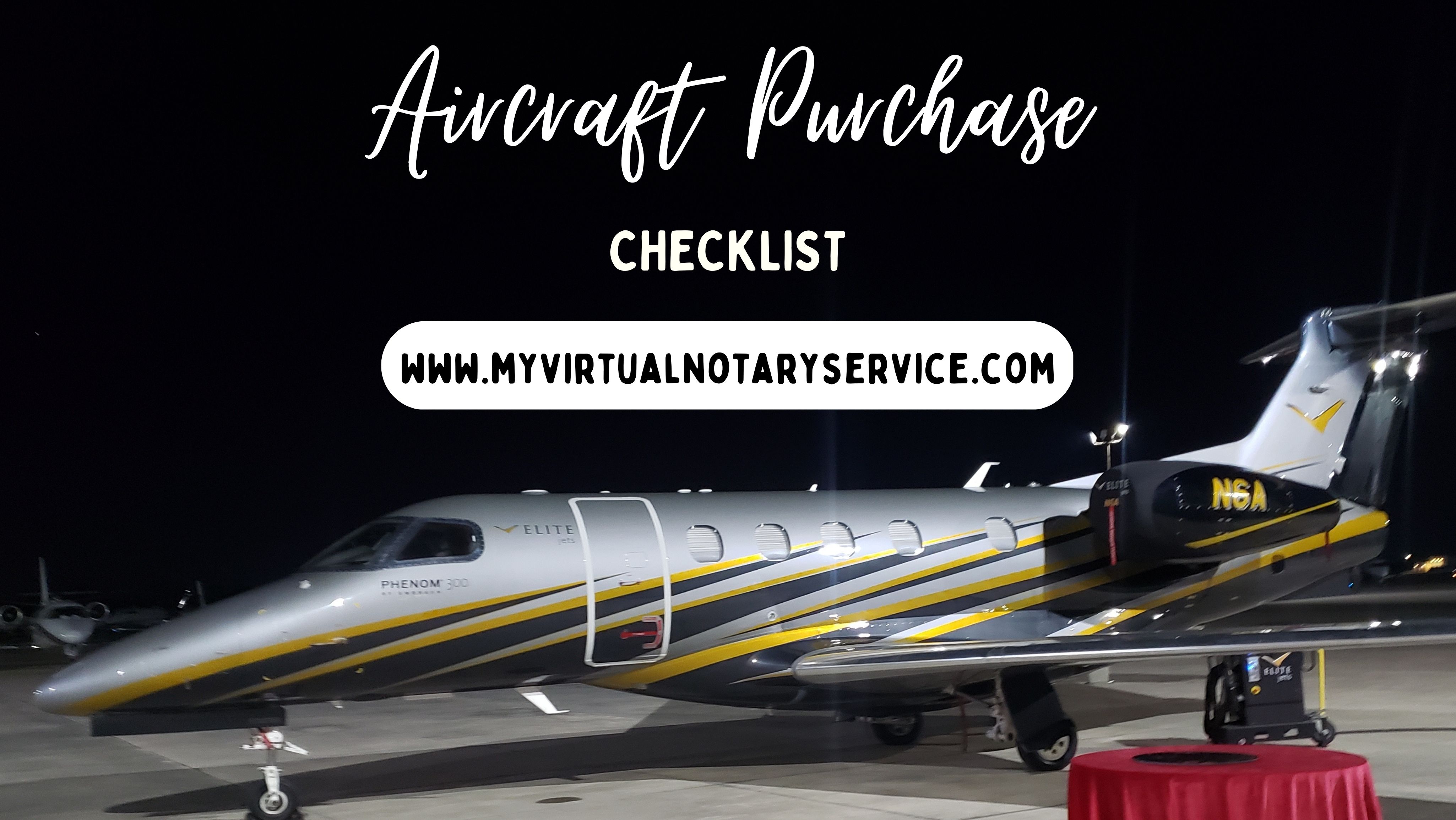 Here is a quick checklist to consider before making your next aircraft purchase. It's important to note that this is just a general checklist, and the specific considerations will vary depending on the buyer's individual circumstances and the type of jet being purchased. Consulting with a qualified professional such as an aviation attorney or broker can help ensure that all important factors are taken into account.
Budget: Determine your budget for the purchase, taking into account not just the purchase price of the jet, but also ongoing costs such as fuel, maintenance, insurance, and storage.

Jet type: Research different types of jets to determine which one best suits your needs, taking into account factors such as range, speed, passenger capacity, and amenities.

Pre-purchase inspection: Have a professional aircraft inspector conduct a thorough pre-purchase inspection to ensure that the jet is in good condition and free from any major defects or issues.

Ownership structure: Consider the best ownership structure for your situation, such as owning the jet outright, purchasing it through a company, or joining a fractional ownership program.

Financing: Determine whether you will need financing for the purchase, and research lenders who specialize in aircraft financing.

Insurance: Obtain insurance coverage for the jet, taking into account factors such as liability, hull coverage, and crew coverage.

Operating costs: Research the ongoing operating costs of the jet, including fuel, maintenance, crew salaries, storage, and other expenses.

Regulations: Be aware of the regulations governing aircraft ownership and operation, including registration, licensing, and compliance with safety and environmental standards.

Pilot training: Determine whether you or someone else on your team will need to undergo pilot training to operate the jet.

Legal assistance: Consider obtaining legal assistance to review and negotiate the purchase agreement and other legal documents associated with the transaction.
The information contained in this article is for general information purposes only. While we endeavor to keep the information up to date and correct, we make no representations or warranties of any kind, express or implied, about the completeness, accuracy, reliability, suitability, or availability with respect to the article or the information, products, services, or related graphics contained in the article for any purpose. Any reliance you place on such information is therefore strictly at your own risk. In no event will we be liable for any loss or damage including without limitation, indirect or consequential loss or damage, or any loss or damage whatsoever arising from loss of data or profits arising out of, or in connection with, the use of this article. Through this article, you may be able to link to other websites that are not under our control. We have no control over the nature, content, and availability of those sites. The inclusion of any links does not necessarily imply a recommendation or endorse the views expressed within them. Every effort is made to keep the website up and running smoothly. However, we take no responsibility for, and will not be liable for, the website being temporarily unavailable due to technical issues beyond our control.